The best VPNs for Chrome in 2017
As the world's most popular browser (and by a large margin, too), Chrome offers plenty in terms of versatility. Its user-friendly setup, stability and security are some of the reasons why many of us opt to use Google's browser for navigating the worldwide web.
Add in the endless number of customisation options to be had by using various extensions and you can really turn Chrome into a personal browser tuned to your exact preferences. Of course, among this bewildering array of potential add-ons for Chrome are extensions from VPN providers, but how do you pick out the best one?
How to choose the best VPN service for Chrome
For a Chrome VPN extension, you'll doubtless be looking to protect your privacy while surfing, and to bypass censorship or unblock geo-restricted content. And as always, you'll want strong encryption and protocol support for tight security.
Performance levels are also important, especially if you're keen on using Chrome to access streaming services. And for obvious reasons, the browser extension should be easy to setup and use. Bearing all that in mind, let's move on to highlight our five top choices for the best VPN when it comes to Chrome.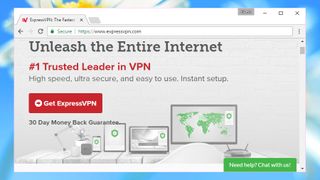 Best all-round VPN for Chrome
Impressive server coverage
Great mobile apps
Can't use extension without the app
A bit more expensive than rivals
ExpressVPN routinely delivers on the software front, and its Chrome extension is no exception. It's easy-to-use and has some neat features which are worth noting like DNS leak prevention and a kill switch. However, one thing to bear in mind here is that you cannot use the ExpressVPN browser extension without having the appropriate ExpressVPN desktop app installed.
The service did well in our performance tests, with speeds only slightly slower than our normal (non-VPN) rates. This provider maintains a favorable privacy policy with no logging of traffic data and online activity.
ExpressVPN doesn't offer a free trial, sadly. There are three available subscriptions which come with a 30-day money-back guarantee. It's a bit more expensive than the average provider, with the yearly plan giving you the best value for money. The packages available are: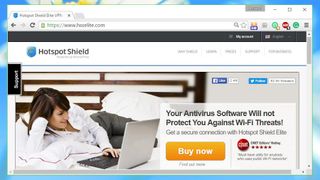 Fast download speeds
Free 7-day trial
Fairly expensive
Limited configuration options
After downloading the Hotspot Shield extension from the Chrome store, it only takes a couple of clicks before you're up and running. You're automatically assigned to the optimal server with the fastest connection speed. There's not much here in terms of configuration options, but the extension is free – albeit with a limited choice of four locations (although on the plus side, you aren't bombarded by ads).
Performance-wise, with this provider, our upload and download speeds proved to be a tad higher than what we'd normally see, with only a slight increase in latency. Hotspot Shield uses 256-bit encryption and frequently updates its browser add-on.
As mentioned, there is a location-limited free version, and a 7-day trial which you can use to thoroughly test the service for full access to all virtual locations and additional options.
Do note, though, that Hotspot Shield is not cheap with three pricing plans available. Opting for the 1-year plan provides the most bang for your buck. The packages available are: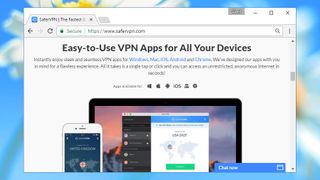 Best balance of performance and price
Above-average speeds
Free 24-hour trial
No P2P support
Detailed session (not traffic) logging
SaferVPN's Chrome extension boasts single-click connection which grants access to over 30 server locations. The extension is free, but if you're not a paying subscriber, there's a 500MB per month data limit (you're also required to sign up for free usage).
The provider manages its global server network in-house, which doubtless helps on the performance front, and indeed we enjoyed good speeds and a stable connection in our testing.
There's no P2P support, though, and the service records a great deal of session data – things like connect and disconnect times, bandwidth used and so on. While there's no logging of actual traffic data, on an overall level, SaferVPN collects more data than we'd ideally like to see.
You have three price plans at your disposal with the 2-year plan offering the best value for money. There's also a free 24-hour trial with unlimited access to the full service. The packages available are: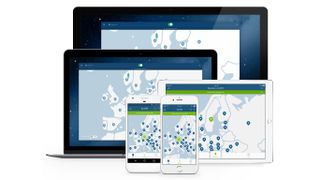 Best for ad and malware-free browsing
Great server coverage
Ad and malware blocking
Monthly plan is expensive
Session logging policy isn't clear
NordVPN doesn't offer a free Chrome extension, so you'll need to set up an account with the provider. Some of the major benefits here include the firm's CyberSec feature which is designed to block adverts and prevent you accessing malware-laden sites, making your browsing a more streamlined and safer experience. The extension is also lightweight and user-friendly with just a simple couple of clicks needed to get things going.
Performance-wise, speeds were solid enough and certainly acceptable. Users have a large server network at their disposal, with 2,200+ servers and counting across the globe. NordVPN has a 'no logs' privacy policy, although there is some uncertainty concerning whether any session logging takes place.
The service offers a three-day free trial but it's hidden on the website (find it here). There are four available plans which come with a 30-day money-back guarantee. With the exception of the monthly subscription, the plans are reasonably affordable with the two-year plan being particularly good value. The packages available are: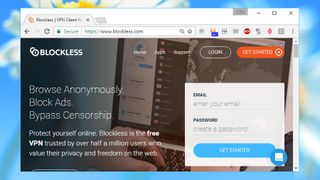 Free plan
Fast performance
Overly basic
Light on server coverage
Blockless will please any novice VPN user out there, as it's very easy-to-use indeed. It offers a simple point-and-click experience, automatically detecting the fastest server available to you based on your region. The service has a free plan, as well, but you'll have to sign up and create an account to use the Chrome extension.
The free plan does have its limitations: you can only connect one device and it's not possible to change your region. On top of that, there are only 10 server locations and the extension has no advanced features. On the plus side, there are no adverts thrown at you here, so your browsing won't be interrupted.
In our testing, Blockless gave a good account of itself on the performance front, with some fairly fast download speeds – although it was rather inconsistent at times.
The VPN's Premium plan is reasonably priced and comes with full access to all regions, five simultaneous connections and an advanced ad blocker, among other goodies. The packages available are: